Children In Worship at Bellevue UMC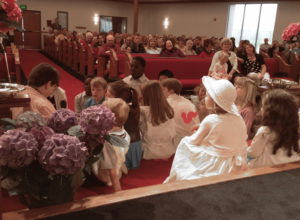 Children are always welcome and wanted in worship at Bellevue United Methodist Church. We know it can be a challenge to parents to bring a young child into worship.  They giggle, poke, fidget, and talk—all normal for a child. But they also sing, pray, give, and learn that worship is something the church does as a community and they are part of that community.
If you have questions about bringing your child/ren to worship, contact a member of the church staff.
ABC's For Adults Welcoming Children in Worship
A Arrive in time to find a place to sit. Sitting near the front will help young children have a better view of the service.  Make sure the children's physical needs are met before worship begins.
B Bring something for small children to hold, do, or read. Worship Bags with children's bulletins are available at all entrances to the sanctuary as are crates of books to read.
C Contribute visibly in worship by singing the hymns, praying and participating in the responses. You are a role model in all you do. Children learn by observation.
D Discuss worship at home. This will both help children be more prepared to fully participate and have a better understanding of what we do in worship.
E Express that you are glad to have children in worship. Remember that the way we welcome children in worship directly affects how they respond to church, God, and Christ.
F Free yourself from worry about children's behavior and be open to receiving their ministry to you.
Hospitality to God's Youngest Disciples
How children of different ages experience worship
Ages 3-5
This child can be assisted with finding the page numbers of hymns and have them ready for singing. They may sing along with the congregation (maybe using her/his own words). They are able to join in singing the Doxology and in praying the Lord's Prayer. This child wants to hold the offering plate as it goes by and wants to contribute, perhaps sensing that worship involves giving.
Ages 6-7
This child knows when to sit and when to stand. They also know that heads are bowed during some prayers. This child can find hymns on their own and sing some of the words to more familiar hymns while proudly and carefully holding the hymnal. He/she is excited to find readable words in the bulletin and is beginning to apply reading skills to matters of faith.
Ages 8 and Up
This child can read from the adult bulletin, find the Scripture lesson in the pew Bible, and follow along as the Scripture is read. They know that we read a hymnbook differently than other books and can follow the hymns pretty well.
AND MORE…..
Children's Worship Bags & Books
Children's worship bags are located by each entrance into the sanctuary, hanging on the wall.  This worship aid is designed for both readers and non-readers.  Please return all items to the bag at the end of the service. There are crates of children's books at entrances – help your child pick out an age level book to enjoy during worship. Please return the book to the crate after worship.
Wonders of Worship (WOW)
We believe that coming together to worship God is essential for growing Christians.  In a community of worshipers, we can learn more about God, and we can support one another in living in a way that reflects God's love and care.
WOW has been designed to help children strengthen their participation in congregational worship. As children understand what we do in worship, they can participate more fully. WOW is for Kindergarten through 2nd grade and is a part of our Seeds of Faith Ministry. The first Sunday of each month, the children participate in worship by sitting with their families and taking Holy Communion with their families.
God Loves Me
God Loves Me is a ministry designed to introduce 2 through 4-year-olds in the Nursery to God. Each week the children hear a Bible story and experience activities that help them respond to the story with their eyes, ears, hands, and feet. Children are never too young to hear about God's love.