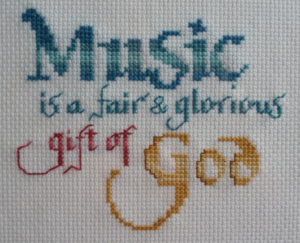 Contact Rev. Debi Tyree, Minister of Music and Worship, for information about any of these ministries.
Chancel Choir
One of the exciting aspects of participation in the Chancel Choir is the wide variety of musical styles that you will sing. It is not unusual in a rehearsal to be learning an anthem by one of the "classical masters," a traditional church anthem, a contemporary praise anthem, an African American spiritual, and a piece of sacred world or global music.  There are no auditions or prior singing experience required to become a member of the choir. While this is an "adult" choir, youth may be considered for membership after a consultation with the Director. The Chancel choir meets to rehearse on Wednesday nights from 7:00 p.m.- 8:30 p.m late August through May. On Sundays they meet at 10:15 a.m. for a warm-up prior to the 10:30 a.m. service. Join at any time of the year.
Celebration Bells (Adult Handbells)
The Adult Handbell Choir meets on Sunday mornings at 8:30 a.m. in the Sanctuary. There are no auditions and while it is helpful to have some experience reading music, it is not required. You will find that ringing handbells takes lots of concentration as you coordinate your left and right hands to the notes that you are to play. You will also discover that playing handbells is so much fun that you won't want rehearsal to end! The Bell choir meets for rehearsals September through April. Open to adults. Youth may be considered for membership after a consultation with the Director. Join September 1 or January 1. Please let the Director know you are joining so a bell part and folder can be prepared for you.
Instrumentalists and Pianists
There are often opportunities for you to share your musical talents with Bellevue UMC. Instrumentalists and pianists participate in a variety of ways; playing the Prelude or Offertory, playing the instrumental part to one of our choral or handbell pieces, playing with a pickup instrumental group, or accompanying a choir. Several times a year we create a praise band to lead in music or to accompany a choir anthem.
The BAND
This group leads worship 3-4 times a year. They work together to choose several contemporary Christian songs to lead in worship, get together for a few weeks for practice, and then lead in worship. Members are a mixture of folks who played in bands in high school and kept playing for fun, and several folks who have played professionally at some point in their career. Composed of guitar, bass, percussion, keys, and vocalists, they enjoy the fellowship of working together as much as leading in worship. Members also add their individual musical talent to worship music and choir anthems. Contact Debi Tyree for an introduction to the group!
Other arts such as Drama, Liturgical Movement, Visual Arts and more
Do you feel called to share your talent in worship? Come and have a conversation with Rev. Debi Tyree to help her discern how to best use your gifts. We believe in enriching our worship through the arts in ways that enhance God's word.