All children are welcomed and supported in their faith journey at Bellevue UMC.
Nursery
Found in Room 206 &  Room 208, infants through 4-year-olds are welcome in our nursery on Sunday morning and during other worship and church events. On Sunday morning the nursery opens at 9:00 a.m. It is open 15 minutes prior to other church-wide events when the nursery is available. Paid and volunteer caregivers provide a safe, and loving environment for children to play. Beepers are available for parents to have during the time their child is in the nursery if desired. The Nursery check-in desk is located outside the nursery. Ask anyone for directions to the nursery the first time you visit us- look for the wonderful children's mural on the children's ministry wing!

Our Children's Sunday School Classes are based on United Methodist curriculum. Lessons are taught with the goal of helping children connect the Bible to their everyday life. The children meet in the classrooms on the 200 wing. You can't miss it, the halls are filled with a colorful mural in bright colors. Classes begin at 9:15.
Age levels and Sunday School Rooms
Each fall we adjust the grade level combinations to best fit the numbers of children that have registered. During the summer Kindergarten through 6th-grade students meet together for a unique "One room" program where older students help the younger students in learning.  Please drop off and pick up your child at the classroom for each activity.
Worship – 10:30 am
In response to the statement of Jesus concerning children, "For to such belongs the kingdom of God," we welcome children to our worship services. Worship bags and bulletins are available in the sanctuary on the wall near each entrance to help children focus during worship. Storybooks for early and beginning readers are in decorated crates in the Welcome Center. Pick a book up prior to worship and return it afterward. There is a sound-proof Lambs Room off of the Narthex with a changing table, a private restroom, a comfy rocking chair, and space for a toddler to move. If you want to spend more than a few minutes in the Lambs Room during worship, there is a special bag on the wall next to the Sound Booth with a listening device and a small speaker so you can listen to the service. You can choose if you would like to listen with an earbud as your child sleeps or plug in the small speaker to listen as you play with your child.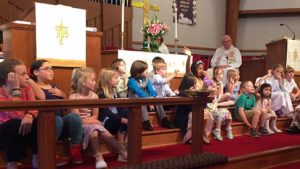 We also have a time called "All God's Children" in worship each week. This is simply a few minutes for the children to come forward for an age-appropriate discussion on one of the scriptures or themes of the day. The leaders include the pastors, staff, and other adults who are experienced in leading children.
Ways to engage children in worship
Acolyte Ministry (Grades 4-Middle School) 
Children in the fourth grade and older are invited to consider becoming trained to be an acolyte. Acolytes serve us in worship in a variety of ways including lighting candles and helping to present our offerings. We offer acolyte training in September, January, and May for new acolytes. A schedule is set up for the acolytes' service 4 months in advance to make it easy for families to participate. Contact Rev. Debi Tyree to learn more about this important ministry.
Tween Gathering (Upper Elementary)
The Tween Gathering is a new ministry that prepares older elementary children for the youth group that they will be introduced to in their 7th-grade year. There are two aspects to the ministry. The first one is the Bible foundation they will receive in Sunday School and Children's Choir. The second is the fellowship and mission foundation they will receive during the tween group meetings. There is no set schedule as we set activities as interesting programs and activities arise, usually 2-3 times during the year.
Scouting Ministries
We have Boy Scout and Girl Scout Troops that meet at Bellevue UMC. Call the church office (615-646-4146)  to be connected to the leaders of the troops and to confirm the next meeting dates and times!
Vacation Bible School
VBS is held each year for children ages four through 6th grade. During Vacation Bible School, children learn Bible stories, songs, participate in games, crafts, and experience inter-generational fellowship and mission. To register your child, to register an adult, or to volunteer go here.
Children's Choirs
Click this LINK for information on Children's and Youth Choirs.